Recently, the canadian startup GG Innovations, which specializes in producing green products for outdoor usage has introduced a new portable power generator – Grengine at indiegogo.com.  Grengine works both with solar power and rechargeable lithium ion batteries.
Grengine stands out with its environmentally friendliness, relatively low weight, and high availability of power wherever you go. The device produces zero emissions of gas, noise and fumes. It weighs only 24 lbs (10 kg) and it produces 1200 Watt/hours of power. Comparing to similar analogs, Grengine is much easier to carry around. To contrast, the GOAL ZERO YETI 1250 SOLAR GENERATOR weighs 103 lbs (46.7 kg), producing nearly the same output of power.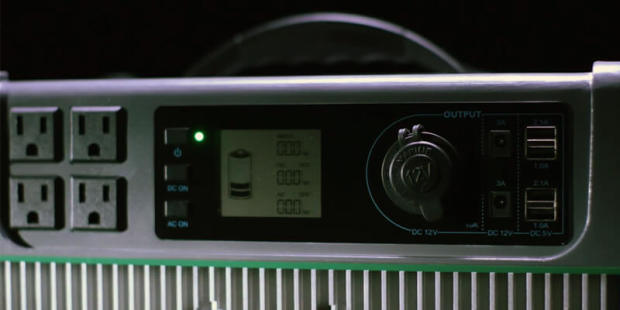 The power generator works with stackable lithium-ion battery that produces up to 1200 Watt hours of energy. If that isn't enough, there is a big room for expanding batteries and adding even more. The included batteries can give you 100 charging cycles of your smartphone.

Coming to the ports, Grengine comes with 4AC power outlets, one 12V DC charging outlet a pair of 3 Amps DC outlets and 4 USB ports. Charging the power generator itself is also very easy. If you are using AC power, it'll take 6.5 hours to fully charge the device. Similarly, with DC power it'll take 22 hours and with solar power, it'll take about 10 hours. Additionally, there is a LED display indicator on top which shows the battery status.
Moreover, the Grengine contains removable LED emergency flashlight which you can remove and use it for lighting your way.
You can pre-order Grengine at Indiegogo campaign page $1450 and shipping charges. You will receive the product at the end of January 2017.